"Marshal Maurice de Saxe, whose Reveries on the Art of War was a curious mixture of conservative and progressive ideas, was reluctant to abandon the pike"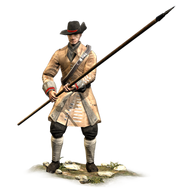 To be continued...
Model
The in game model of the Pikemen seems to resemble the appearance of the 1st Foot Guards during the Battle of Sedgemoor.
Sources
Ad blocker interference detected!
Wikia is a free-to-use site that makes money from advertising. We have a modified experience for viewers using ad blockers

Wikia is not accessible if you've made further modifications. Remove the custom ad blocker rule(s) and the page will load as expected.