Company of Select Marksmen/Fraser's Rangers
Belongs to
Great Britain
Type
Skirmisher
Weapon(s)
Musket
Soldiers in each unit
60
Melee Attack
7
Charge bonus
9
Defense skill
5
Morale
8
Range
90
Accuracy
60
Reloading
25
Tech requirement
None
Produced from
Military Governor's Encampment in Upper Canada
Special abilities
­

Can skirmish
Can hide in woodland
Can hide in light scrub
Can hide in long grass
Can hide in buildings
Good stamina
Paths seldom trod

Cost
860 (580 MP)
Upkeep
210
Turns to Train
1
Unit Cap
1
The Company of Select Marksmen/Fraser's Rangers are skirmishers in Empire: Total War. They are available only through the Elite Units of America DLC, to Great Britain.
Description
Edit
These elite marksmen are trained in wilderness warfare and taught to survive in harsh conditions.
Rangers are used for scouting and raiding missions far beyond the skills of ordinary men. Their ranks are mostly drawn from frontiersmen already hardened to living in the wilderness and capable of hiding in a variety of terrain types. Excellent marksmen, they excel at ranged combat but suffer in prolonged melee attacks. They are trained to conceal themselves and fight in loose formation, but if caught in the open by line infantry or cavalry they are likely to sustain heavy casualties.
Historically, Fraser's rangers was a British brigade formed in Canada and composed of General Fraser's 24th Regiment of foot, with light infantry and grenadier units from Sir Guy Carleton's Montreal force. These men took part in a number of key battles during the American Revolution, most notably the Battle of Bennington where they sustained heavy losses. They also fought at Saratoga, where they came up against Major General Morgan and his 500 elite Riflemen. Morgan's men were attacked by the British advanced company but Fraser and his rangers drove them back, allowing the advanced company to retreat.
General Information
Edit
Fraser's Rangers are superior Rangers, but only one regiment may be recruited. Statistically, they are slightly inferior to Rogers' Rangers; however, they have the advantage of being able to deploy Improved Fougasse when entrenched. They are able to access Improved Fougasse far earlier than any other unit in Great Britain's roster, and are able to access it earlier than almost any other unit save perhaps Bosnian Panduks and Haydut Irregulars.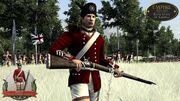 Ad blocker interference detected!
Wikia is a free-to-use site that makes money from advertising. We have a modified experience for viewers using ad blockers

Wikia is not accessible if you've made further modifications. Remove the custom ad blocker rule(s) and the page will load as expected.